STABFOR®

The STABFOR® unit is based on innovative nanotechnologies. It protects water against microorganism development and activity, prevents the formation of biofilm in the fittings and reduces the formation of scale.
The device removes microorganisms from water and harmonises energy inside the water. The length of use of the STABFOR® unit is at least 20 years. The use of STABFOR® unit is versatile, i.e. for all water supply systems (drinking, hot or technological).
Approved for use
in drinking and hot water.
Specification
OUR NANOTECHNOLOGICAL PRODUCTS ARE MANUFACTURED BY NO WASTE TECHNOLOGY
produces H3O2 / EZ water and free hydrogen (structured - live water)
purifies and microbially stabilises/protects water, prevents microorganism re-growth
the entire purification process ensures gradual living biofilm elimination in the pipeline and prevents its recurrence
removes organic chemical and their metabolites in varying proportions
reduces limescale formation
unattended operation and minimum maintenance requirements, you only change the insert, stabilizators and UV lamp once every 1-2 years
no toxic substances are created in the activity
you can store water treated in this way for several weeks, months or even longer
Effect of a STABFOR® unit
clean and healthy water for drinking and bathing ( human body absorbs substances from up to 1.5 litres of water by showering)
increased vitality and energy, improved digestion, markedly improved hair quality, inner calm and balance ( clinet's feedback)
significantly better water taste =improved drinking regime
water free of chlorine and chemical free
can increase pH
watering crops increases their germination, therefore production and durability, helps to prevent mould formation and pest infestation
watering the lawn increases the quality and stability of the lawn
treated water that drains into waste positively affects/encodes water that it comes into contact with
Economy and cost reduction
the pipeline is gradually cleaned of live biofilm, it's no longer created -> protection of investments and appliances connected with water (dishwasher, washing machine, kettle, etc.)
using treated and stabilised water can reduce detergent and dishwasher detergent consumption by obout 50%
bathtub, toilet, wash basin etc. are not clogged with biofilm and temporary limescale
the use of treated and stabilised water brings great savings in industrial, food and other operations
treated water means less burden for waste water treatment plants - improving their properities
Comparison of water crystals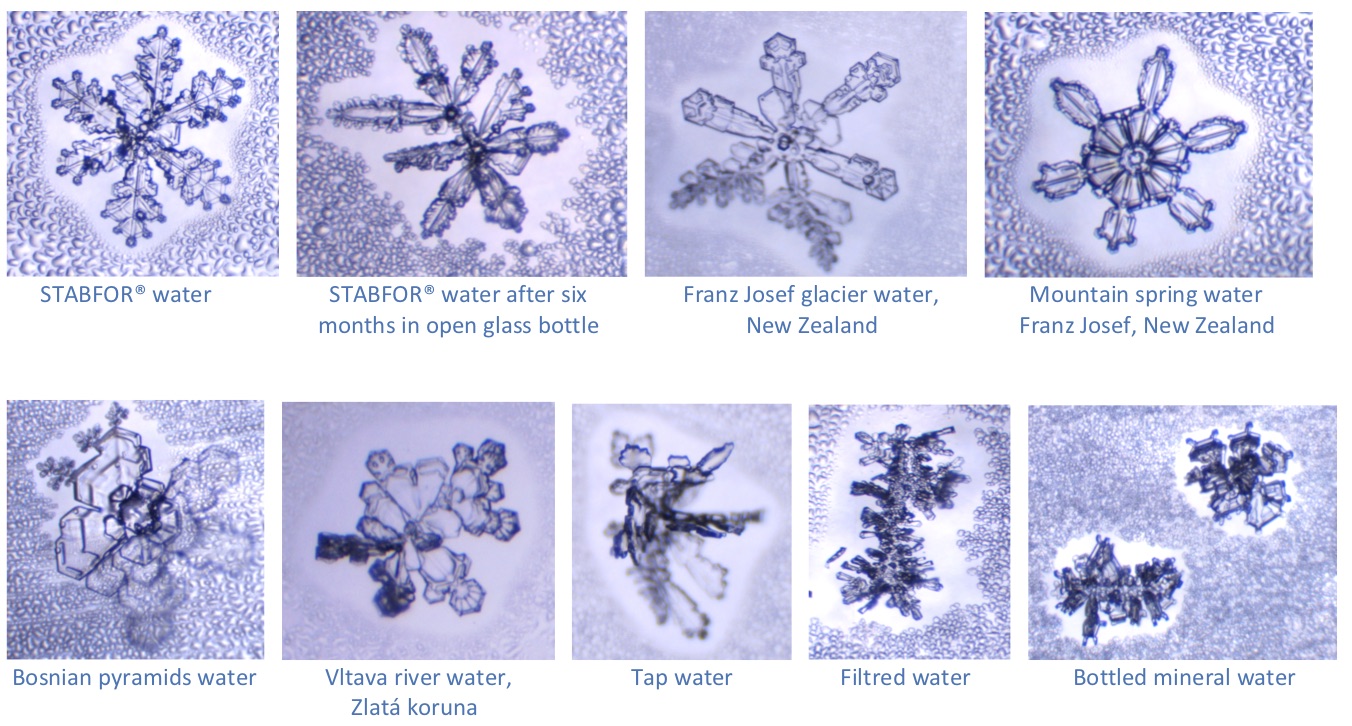 In case of individual solution the price calculation may differ from the price list.
Technical data
SNP (Smart nanoparticles)
Specially developed nanoparticles that remove microorganisms in water and biofilm in fittings.
---
HERM (Highly efficient removal of microorganisms)
HERM technology is based on two pillars: UV radiation and innovative SNP technology embedded in a geopolymer matrix. Synergies and mutual support of these two factors ensure the elimination microorganisms occurring in the water, and they start the process of harmonising the energy in water.
---
MWB (Management of water balance)
Water cleaned with HERM technology is further treated using MWB technology with specially developed stabilisers. In the long run, it avoids any further microorganism multiplication, biofilm emergence and completes the water's energy harmonisation process.
Gallery